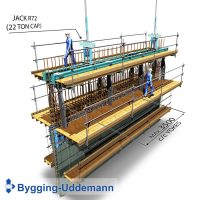 During the previous year, we developed a new and more rigid slipform rig for the market. We call it our heavy duty slipform rig.
For the last few years we have decided not to send Christmas cards to our customers, but make a donation to charity.
There are various construction methods and techniques used by construction companies. The slipform technique is a popular method of construction. Simply put, slipform is the name of the mould into which liquid is poured. Also known as the continuously formed or slipform construction method, this is widely used in construction projects. The method is used for tall as well as horizontal structures. These structures range from buildings, bridges and towers to dams and roadways. 
Slipforming helps to provide a continuous and uninterrupted process for quick-setting concrete. This enables cast-in-place concrete structures to develop superior quality and durable characteristics. There are different types of slipform construction— vertical, horizontal, tapered and conical slipforming. Read on to know everything about a kind of slipforming known as conical slipforming.
What is Conical Slipforming?
The conical slipforming technique was originally developed in order to construct concrete structures, that have continuously changing dimensions such as wall thickness. The tapering slipform method of construction is used to efficiently construct high rise structures independently, and is effective in reducing the duration of construction projects. In vertical slip forming, the concrete formwork could be surrounded by a platform for workers to stand upon as the concrete is poured. The horizontal slipform method is used in the construction of traffic and pavement separation walls. 
Conical slipforming is used in the construction of cooling towers, oil platforms, bridge pillars, industrial chimneys and other tall concrete structures. Such structures usually involve changing thickness in diameters, shapes and walls. At first, the technology was developed for constant cross sections having precise vertical orientations. Later, it was further developed for variable layout shapes. This process offers a monolithic construction method for the easy increase and decrease of layouts. 
How Conical Slipforming Works
Generally, conical slipforming is used in the construction of round or rectangular tower-shaped structures that have changing cross-sections. Despite the name, this construction method is not just limited to conical structures. It can also be used to continuously cast concrete monolithic structures with a flaring or tapering form.
Conical slipforming works in the following way:
A yoke frame is created using a pair of vertical and horizontal yoke plates

The yoke frame functions as a parallelogram moving within itself

At the lower end of the yoke frame, the formwork panels into which concrete is poured are mounted

At the upper end, a star-shaped truss arrangement is mounted 

A hydraulic system is used to horizontally pull the yoke frame which is also mounted on the truss arrangement
Advantages of Conical Slipforming
Due to rapid industrial development, a staggering number of chimneys are constructed annually using the conical slipform technique. The main advantage of conical slipforming is that the formwork is erected only once, and remains intact until the completion of the entire project. Through the implementation of careful construction processes such as conical slipforming, companies can achieve high rates of production. Other benefits of opting for the conical slipforming process are the minimal use of cranes, the need for a small workforce, and the availability of different working platforms.
To learn more about the slipform construction method, contact companies that provide conical slipform supply services.
During the previous week, we signed contract to produce the caissons for Gangneung Power plant project in Gangwon Province, South Korea
Project information:
Name: Gangneung Anin Power Plant Caisson Project
Client: Samsung C&T Corporation
Scope: 43 nos Caissons
Weight: appr. 12.705 ton each
Earlier this year, we assisted SVEVIA and the Swedish Transport Administration with technology and expertise to launch the new bridge over Tunaån. Watch this to see the whole successful project!

Warning: imagejpeg(/free/home/knltech/html/wp-content/uploads/2018/12/en-911x500.jpg): failed to open stream: Permission denied in /free/home/knltech/html/wp-includes/class-wp-image-editor.php on line 419

Fatal error: Uncaught Error: Cannot use object of type WP_Error as array in /free/home/knltech/html/wp-content/themes/legenda/framework/images.php:196 Stack trace: #0 /free/home/knltech/html/wp-content/themes/legenda/framework/images.php(81): vt_resize(7542, '', 911, '500', Array) #1 /free/home/knltech/html/wp-content/themes/legenda/framework/images.php(73): etheme_get_resized_url(7542, '1000', '500', Array) #2 /free/home/knltech/html/wp-content/themes/legenda/content.php(24): etheme_get_images('1000', '500', Array) #3 /free/home/knltech/html/wp-includes/template.php(503): require('/free/home/knlt...') #4 /free/home/knltech/html/wp-includes/template.php(477): load_template('/free/home/knlt...', false) #5 /free/home/knltech/html/wp-includes/general-template.php(171): locate_template(Array, true, false) #6 /free/home/knltech/html/wp-content/themes/legenda/category.php(36): get_template_part('content', 'default') #7 /free/home/knltech/html/wp-includes/template-loader.php(74): include('/free/home/knlt...') #8 /free/home/knlte in /free/home/knltech/html/wp-content/themes/legenda/framework/images.php on line 196